BioMagnetic Cotton Underlays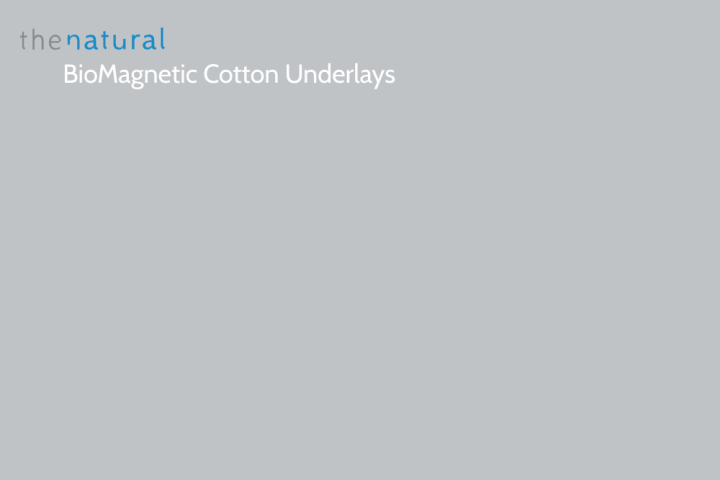 BioMagnetic Cotton Underlays
The BioMagnetic Pure Cotton Underlay is a quality assured product that will help you get an amazing nights' sleep every night!
Each underlay is bacteria and fire resistant, and perfectly quilted for superior comfort. Thick padding ensures the individually sewn magnets comfortably do their job of helping you have a restful nights' sleep, reduce joint and muscular aches, and enhance your vitality and well-being.
Call our friendly support centre for more information.
1 800 66 66 77
sale
Includes 2x Free Magnetic Pillow Pads for Double, Queen & King sizes
Includes 1x Free Magnetic Pillow Pad for Small PLEASE NOTE NO FREE PILLOW PADS FOR KING SINGLE COTTON UNDERLAYS
Free Shipping Australia Wide
90 Day Money-Back Guarantee
Please note that our Double Size will fit Most Queen beds.
+Product Information
Cool, natural cotton - Cost effective and extremely comfortable.

Our Pure Natural Cotton Underlay is thickly quilted for superior comfort and is as premium a product as the Wool version. Both versions contain the same amount of therapeutic magnets and both have fitted skirts that fits snugly over even the deepest mattress. Thick padding ensures the individually sewn magnets comfortably do their job of assisting sufferers with sleeping disorders, reducing joint and muscular aches, and enhancing vitality, wellbeing and rejuvenation.

We've found that many pensioners prefer the cotton version because it is at a lower price than the wool. However, others simply prefer the feel of it. Or they buy the wool version for the parent's mattress and the cotton underlays for their children's bed. The choice, therefore, is entirely personal.


Millions of people already use The Natural bioMagnetic

Apart from waking up feeling invigorated, our magnetic therapy underlays are simply luxurious to sleep on! Well over a million Australians seem to agree. They have chosen The Natural bioMagnetic in place of mattress toppers, mattress protectors or overlays as a great way to both cover their mattress and enhance their lives. This makes us very happy indeed!

When the counter clicked over onto that huge number, we certainly celebrated! Yes, we were pleased with the success. But it was also more than that. We were delighted that almost 2 million people had chosen not just comfort, but improved health and wellbeing. (Wondering why we say 2 million people? Our most popular underlay, which some call overlays or mattress toppers, is Queen size, so we reckon we can safely say 2 million sleep on them!)


Enhance your vitality and wellbeing

The Natural bioMagnetic underlays are all about increasing your level of wellbeing. While we sleep, our bodies recharge and repair themselves. Our immune system works on removing toxins, dead cells and so on. And our body stores up energy for the next day. So it makes sense to help boost its efforts with Static Magnetic Fields (SMF) like those created by The Natural BioMagnetic sleep systems.

And the beauty of The Natural bioMagnetic is that it's a one-off cost that lasts for years. What's more, you don't have to take it internally, make appointments in order to achieve its potential benefits or travel to obtain it. You simply go to bed!


+Specifications



Luxury, comfort and all-night magnetic therapy

Totally compatible with pharmaceutical products. Absorbs moisture up to 30% of own weight - without feeling damp. Fire and bacteria resistant. Non-allergenic. Generous fitted skirts fit securely over even the deepest mattress. No electrical power plug required. Can be used with electric blankets. Fully machine washable on the gentle cycle. Includes free magnetic pillow protectors worth up to $99.90. Get one with Single and King Single and two with Double, Queen and King sizes.

Australian sizing. International use.

Because we're an Australian brand, our underlays are determined by Australian sizing. However, we've found they're either exactly the same or very similar to many sizes found around the world. If you come from somewhere other than Australia, please take a look at our sizing chart on the last tab in this section. It's called Mattress Sizes, appropriately!

PLEASE NOTE: Wherever you come from, all our underlays have a well-designed fitted skirt that fits snugly over even the deepest mattress. The skirt should help keep the underlay in place, even if the sizing isn't exact.

The matching magnetic pillow protectors fit easily over most pillows, including contour, and are also comfortably padded.

Everything they need to work

Here is an exact count of magnets available in each pack. From research done, it would seem we contain up to 64% more magnets than most others. We believe this is worth talking about because it means you don't have to lie in one spot to achieve the maximum benefit. We all sleep in different positions and move around in our sleep, so our therapeutic magnets are spread across the entire magnetic pad area in a grid. No matter where on your bed and how much you toss and turn while you sleep, you're likely to achieve the potential therapeutic benefits.

Single - 149 magnets underlay + 40 magnets pillow protectors King Single - 200 magnets underlay + 40 magnets pillow protectors Double - 257 magnets underlay + 40 magnets pillow protectors Queen - 305 magnets underlay + 40 magnets pillow protectors King - 330 magnets underlay + 40 magnets pillow protectors

Equally as important is the quality and the magnets gauss rating. The Natural BioMagnetic uses magnets of 1,000 gauss (gauss is what the strength rating is called), which is the ideal strength for use in magnetic therapy achieved while sleeping or lying down.

IMPORTANT INFORMATION: Pregnant women and individuals with pacemakers, insulin pumps or other critical or implanted electronic devices should obtain advice from their doctor before using magnetic products.


+90 Day Money-Back Warranty
The Natural Group's 90-Day Money-Back Policy is offered on joint use of The Natural BioMagnetic Underlay and Pillow Protectors, if you are not satisfied with the level of effectiveness of the Total Body Wellbeing package after 90 days of continuous use - in accordance with the instructions provided under the Total Body Wellbeing section in this leaflet. Our offer to refund the purchase price of the underlay is limited and is subject to the following conditions. Read these conditions carefully BEFORE using the Magnetic Underlay and Magnetic Pillow Protectors.

In this document, the term "Total Body Wellbeing" means The Natural BioMagnetic Underlay and The Natural BioMagnetic Pillow Protectors purchased concurrently and used in conjunction with each other.

The Natural BioMagnetic does not claim to cure degenerative diseases or any other condition. If symptoms persist, please consult your doctor. Pregnant women and individuals with pacemakers, insulin pumps or other critical or implanted electronic devices should obtain advice from their doctor before using magnetic products.

More Information
+Mattress Sizes
International Mattress / Bed Sizes

The Natural bioMagnetic underlays come in standard Australian mattress names and sizing. If you live outside Australia, please simply select a size that is equal or close to the Australian size, using the mattress measurements shown. Please note, go by measurements, not name, to get the best fit.

Single
92cm x 188cm (36" x 74")

King Single
107cm x 203cm (42" x 80")

Double
138cm x 188cm (54" x 74")

Queen
153cm x 203cm (60" x 80")

King
183cm x 203cm (72" x 80")